Continuous Improvement at Watts Urethane
Published on Monday 2
nd
March 2020 in
News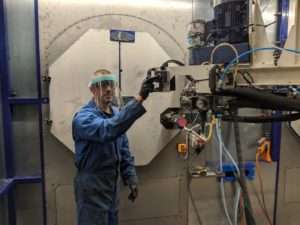 Most manufacturing businesses produce an element of waste, however in line with their core values, Watts Urethane are always looking at ways to reduce waste, streamline processes and improve their carbon footprint as a responsible manufacturer.
With this in mind, they have recently fitted a boom arm to one of their liquid polyurethane dispensers and this improvement effectively brings the head of the dispenser within centimetres of the casting surface when dispensing. The project has helped reduce waste significantly through their sheet production process and as a capital investment will payback within 6-7 months – which is a fantastic result.
Watts Urethane's sheet production department produces polyurethane sheet up to 686mm wide and 3700mm long with thicknesses up to12mm in a variety of different blends and colours. In addition, they can produce sheet in a very wide range of shore hardness's – Typically between 35A – 90A.  With their cutting tables, sheets can then be cut for a wide range of applications from print squeegee blades through to gaskets for engineering applications.